16-18 Dec-The WIM HOF Method Retreat
16-18 December 2022
Join Alex Vliege for the Wim Hof Method WHM Fundamentals Workshop on Saturday 17th December at De Kloof Heritage Estate boutique Hotel & SPA in Swellendam. Reserve your place today for this powerful weekend & become strong, happy & healthy with the Wim Hof Method.
The ice bath is like a mirror , its a gateway to the soul.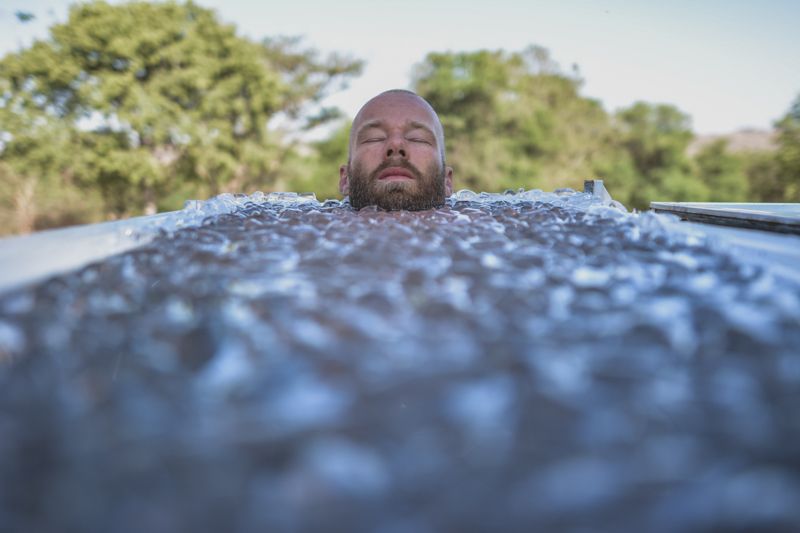 Put yourself in the expert hands of our certified WHM Instructor Alex Vliege to learn the 3 pillars of the Wim Hof Method:  
Breathing Technique,
Cold Exposure
Commitment.
Find out how you can utilize oxygen and cold exposure to optimize body & mind, and learn about the underlying physiology. 
WHY DO THE WIM HOF FUNDAMENTAL WORKSHOP ? Whether you are looking to improve mental or physical performance, relieve anxiety or symptoms related to illness, boost your immune, overcome your fear or are just curious to find out what the Wim Hof Method is all about - a WHM workshop offers something for everyone WATCH  Wim Hof - THE ICEMAN - in the video below of the page 
Cold therapy
Exposing ones body to cold temperatures is one of the three pillars of the Wim Hof Method. In recent years, cold body therapy has gained serious popularity, because it is linked to numerous health benefits. Some people, including professional athletes, bodybuilders, and celebrities even swear by whole body cryo therapy. This kind of therapy is characterized by standing in a sealed container for a short amount of time, while extremely cold air is circulated around the body. As whole body cryo therapy is relatively expensive and not widely available, methods like the Wim Hof Method provide an affordable alternative. You can practice the method from within the comforts of your home, by takinga cold shower, so you can already start reaping the benefits of cold body therapy today!

Benefits of cold therapy
Frequent exposure to cold is linked to a number of different health benefits. For example, scientists have found evidence that exposure to cold speeds up metabolism. Another benefit of exposing your body to cold is that it reduces inflammation, swelling, and sore muscles. Therefore, many athletes use ice baths and other types of exposure to cold as a means to speed up recovery after physical exercise. Furthermore, cold body therapy is also linked to improved quality of sleep, more focus, and even an improved immune response.

Cold is an important component of the Wim Hof Method, which is applied in the form of cold showers and ice baths. Participants of the WHM report health benefits that range from higher energy levels to relief of symptoms caused by autoimmune diseases"
https://www.wimhofmethod.com/cold-therapy#:~:text=Cold%20therapy,by%20autoimmune%20diseases
The weekend program includes : 
Friday 16th December 
Arrival check-in from 14:00 hrs 
DUO African fusion full body massage 60 min at Sans Souci SPA
Dinner ( three course ) served in Restaurant 18 ZeroOne
Overnight stay in your suite 
Saturday 17th December 
Breakfast 
WHM workshop 10:30-17:30
 includes all refreshments
Breathwork,
Yoga
Cold training
Mindset/Focus training
WHM theory
Ice Bath
Evening at own leisure + Overnight stay in your suite
Sunday 18th December
Optional Morning Yoga on the lawn by professional facilitator 
Breakfast 
Departure /checkout 
Investment Retreat Package price ZAR 9.995,-  per room(  max 2 adults per suite)  
All participants get upon registration the theory and cold shower challenge handbook + after workshop the WHM E-book to use as a tool for life.
IS ANY EXPERIENCE OR PREPARATION NEEDED ?
Nothing really, more info about the full day workshop is sent out upon registration. If you have no prior experience with cold exposure, we recommend you finish your showers cold in the days leading up to the workshop. This may be overwhelming at first , but just ty to relax focus on your breath and bring it into a controlled steady rhythm.
WHO IS THIS WORKSHOP SUITABLE FOR?
This workshop is suitable for everyone but does require a basic level of health. Out of precaution we advise against participation during pregnancy or if you are epileptic. People with cardiovascular issues or any other health conditions should always consult a medical professional before starting the Wim Hof method
Exclusive use of estate for participants - Full guidance by professionals - Limited space available 
For bookings info@dekloof.co.za  or call 028-5141303
Watch Official WHM video below    Pictures by Alex Vliege